This product is part of "The Fairytale Book Bundle":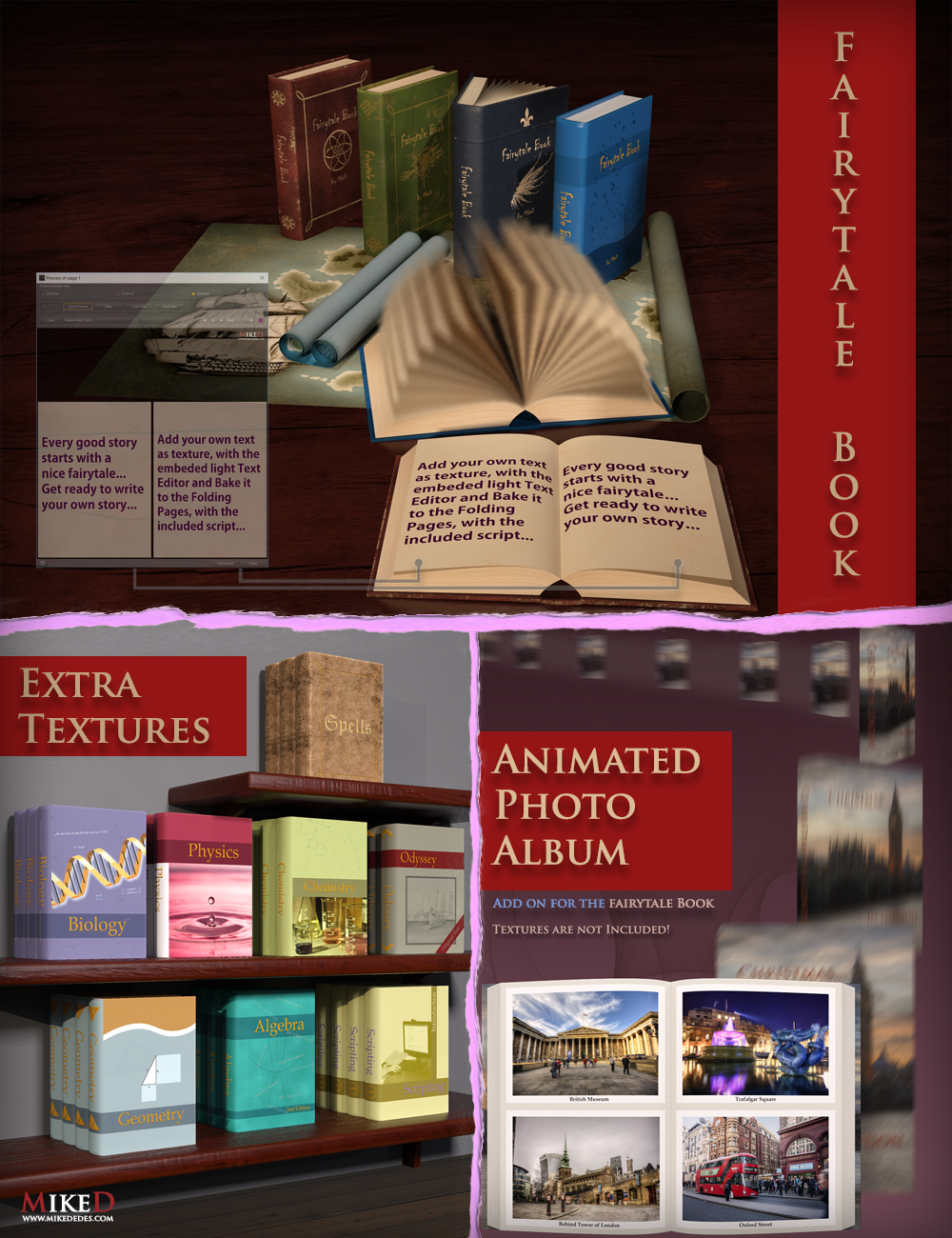 Do you have or do you want to buy 'Fairytale Book' prop? Then you have your virtual Photo Album with this add on.
The 'Photo Album' for 'Fairytale Book' gives you the possibility to use it as a virtual Photo book for your favorite image presentations. Use it for a wedding virtual album, for a special occasion photo album, or just to show some great photos (see the video below). Just set up a photo book, render it in Iray or 3Delight and you have your video ready.
The Photo Album includes a Scene Subset with a Backdrop, a light (emissive for Iray and a spot light for 3Delight), two cameras (16:9 and 4:3) and animation files for the intro, the pages' turn and the outro of the book in the scene. You can also find twelve material presets for the Backdrop color (in Iray and 3Delight) and some Render Settings preset files.
There are 6 ready and animated Books as Scene Subsets (including 5, 10, 15, 20, 25 and 30 pages correspondingly) in case you want a quick set up of an animation.
Of course you can set up the animation of the Photo Album manually or with an easy and time saver Set-Up Script, to any Fairytale Book in the scene that includes any number of pages. With the script you are just entering your preferences and the animation is ready in no time (see the video below). There is a very useful 'Save Book' script that saves your new animated Book to the root folder of the Photo Album as a scene subset for future use.
You can also find an 'Instruction' script to help you any time you want in setting up the photo album, manually or with the Set-Up script.
See the video below that demonstrates the animation files included in the package and how to set it up manually or by using the included script:
See the video below that demonstrates the use of the Fairytale Book as a Photo Album (the textures in this video are custom and are not included in the package):
Have fun creating your own virtual 'Photo Album' videos!